Stop after owe is an Advanced Configuration setting that blocks member access when the member owes your facility a given sum of money for a given period of time. We recommend setting the time period to longer than 3 days, and the money value to be similar to your average membership fee. This means that members have time to resolve their debts before their gym access is blocked. Sometimes billing issues are out of the control of the members (for example if the billing provider has a technical outage) and fees take time to process, so if you make the time period too short, members who have paid but have their payments processing will be locked out.
In this example, the GymMaster Access Control system will block access after the member has been owing more than $15 for more than 5 days. For example, if the member failed a $20 payment and does not resolve it, on the 6th day after the payment failed they will not be able to enter the facility.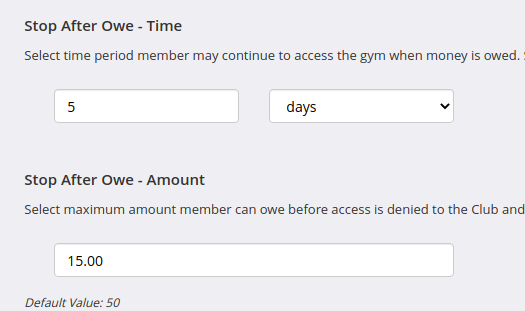 To set Stop After Owe:
Settings

Advanced Configuration

Readers

Edit Stop After Owe - Time

Edit Stop After Owe - Amount

Save

For a full list of reasons why members can be denied entry see the article Member denied entry.