Manual Billing Only is a setting that stops your billing from being sent automatically every night. GymMaster staff will enable this setting for you if you have just had a transfer, or have just set up your integrated billing provider. This gives you a chance to preview your upcoming billing before you allow GymMaster to bill automatically for you. To have automatic billing go out, uncheck Manual Billing Only and save.
To change Manual Billing Only, navigate to Settings > Club Details > Billing Details > Check Manual Billing Only > Save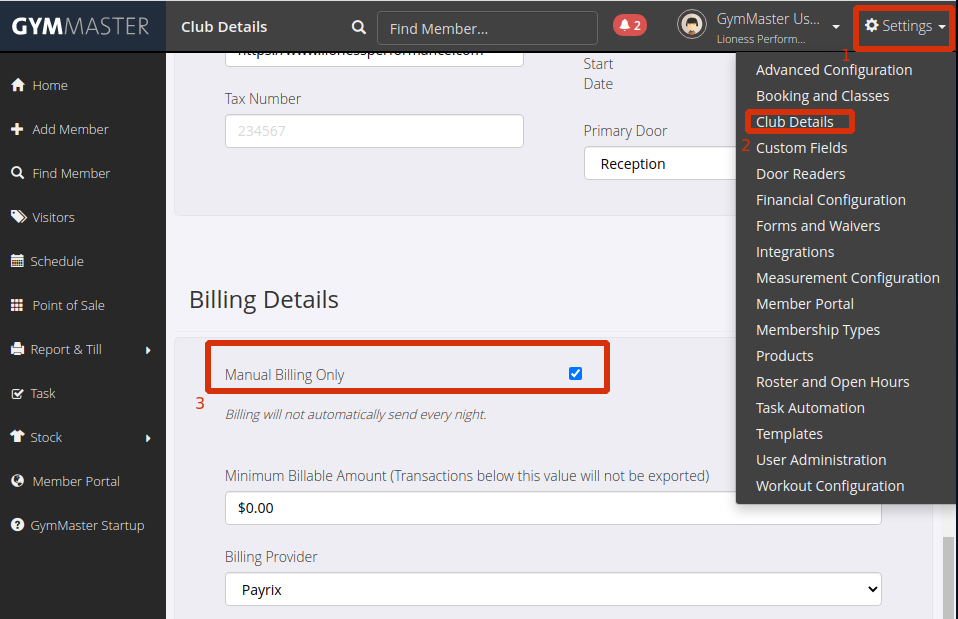 Some clients choose to use manual billing on an ongoing basis as it provides maximum control and clarity over your billing. If billing has not been sent for a certain time period, you can use manual billing to send billing for that period now. If you do not do this, the charges will accumulate on the account and will be billed at the member's next bill date.

To perform manual billing, navigate to Report & Till > Billing > Manual Billing / Import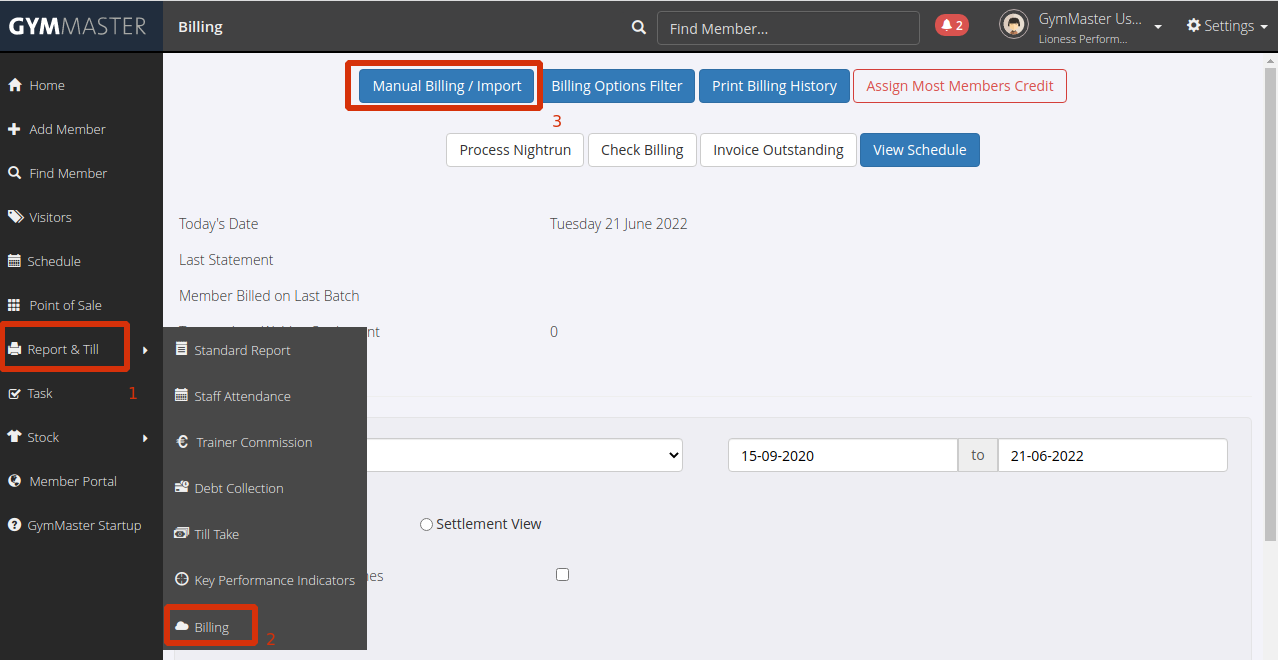 When you perform manual billing, you will need to select your integrated billing provider and the date for which you want to bill. If you choose Bill for this date, only charges scheduled for that day will be billed. If you select Bill for all days, all charges for all days prior to that date will be sent, including charges on expired members.

When you select Bill for this date or Bill for all days, you will be shown a preview of who will be billed and how much. You can click the column headers to sort by that column e.g.Click Amount to order the amounts from highest to lowest. Click again to order from lowest to highest. You can uncheck 'export' if you do not want to send the charge in this batch. The charge will accumulate on the member's account instead.
Once you are happy with the preview, select Submit Changes

To send the billing, select Send Billing

To monitor the batch you just sent, navigate to Report & Till > Billing

As time goes on, you can come back to this page and refresh, and you will see the amount processing go down, and the amount settled go up. Failures usually return before successful transactions, so don't worry if a few transactions fail. If you want to see more information about individual charges and their failed reasons, select View.
Some clients use Manual Billing at the start of their GymMaster subscription to get a feel for how the billing works, and then go and uncheck Manual Billing Only once they are confident that they have everything set up as they wish.