Choosing a provider
The main things to consider when choosing a billing provider are their services and their fees. The services vary between provider, common offerings are: ACH transactions, card transactions, point of sale devices, and refunds. For more information on choosing a provider, have a read of the following blog posts.
To find out which integrated billing providers are available in your region, see here.
Setting up your provider
Once you're all signed up with a billing provider they'll provide you with some credentials for your account with them, these will need to be input into GymMaster. Navigate to Settings > Club Details > Billing Details, then select your provider from the drop-down menu. The credentials required will vary between providers but usually consists of an account reference and a secret key. For facilities that offer online sign-ups select your default providers for online transactions under the Member Portal section just below the Billing Details.
If your chosen billing provider isn't an option in the drop-down menu, you may need to first enable the provider by navigating to Settings > Financial Configuration > Billing Providers
Note: You can have more than one billing provider, the drop-down menu is for viewing the provider's details, changing it won't overwrite any of your credentials.

To set up your billing provider for the first time: Go to Settings > Club Details > Check Manual Billing Only (if you are not yet ready to bill) > Change the billing provider dropdown to the billing provider you will use with GymMaster > Check the enabled check box > Fill in the required ID/ Key fields > Save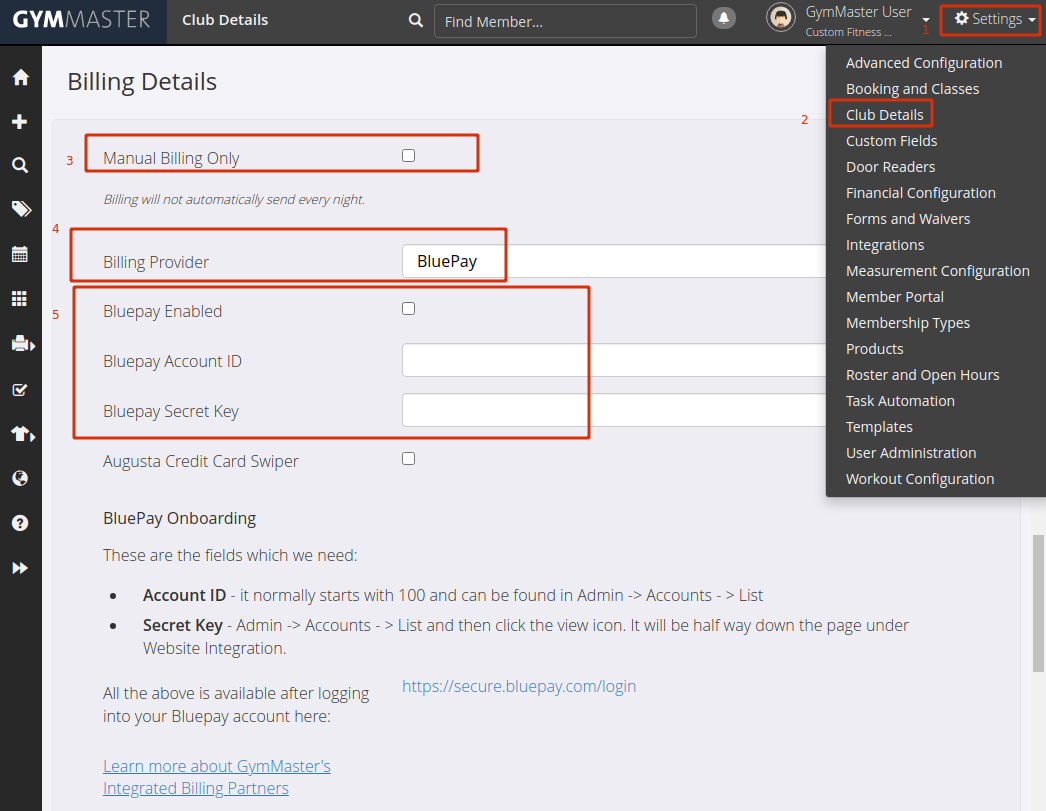 Verifying the integration
To test that the entered credentials are correct, try adding a member to your provider under their Billing Details tab. If you haven't added any members yet you could create a dummy member and enter your own details. If the billing details are successfully added then you're all set up, if there is an error get in touch with your billing provider to verify your credentials and confirm that your account has gone live.
Once you first start billing your members there might be a higher than usual failure rate while certain features are getting enabled with your provider. See the article, Failed Billing, for help with handling these.
---
Need more help?
You can contact the GymMaster Support team if this article didn't answer your question, you had trouble following any of the instructions, or require further assistance.
Submit a Ticket
GymMaster Support