Add a membership to a member to have them receive the benefits of the membership and a payment cycle that will allow automatic billing to collect funds from their account. Do not set memberships up as products, as the system will not grant the member access to the facility, record their visits or collect payment from the member on an ongoing basis.
To add a membership to a member, you must first create a Membership Type. Membership Types are the templates from which individual memberships are created. A membership is connected to a specific member and includes details like the start date and the member's first payment date.
Once you have both the Membership Type and the Member set up, you can give the member a membership. Go to the member's membership tab and select the desired membership from the membership dropdown. If you cant find the membership, it may be in a different division, or it may be discontinued.

At this point, if you have sufficient access rights, you can edit the membership for the member. You can change the price, minimum term, start date, and first payment date. These changes will only apply to this member.
The start date is when the member can start using the membership and receiving its benefits (booking classes, entering the gym, etc.) The first payment date is when the member will first be charged. This sets the billing cycle for the rest of the membership, so it may be worth asking the member when they want to be billed (e.g if they are paid on a Wednesday, they may want their billing to be drawn on a Thursday.) If the first payment date is after the start date, the system will generate an upfront fee, which is the per day cost of the membership between the start date and the first payment date, to ensure that the member pays for all the days they use.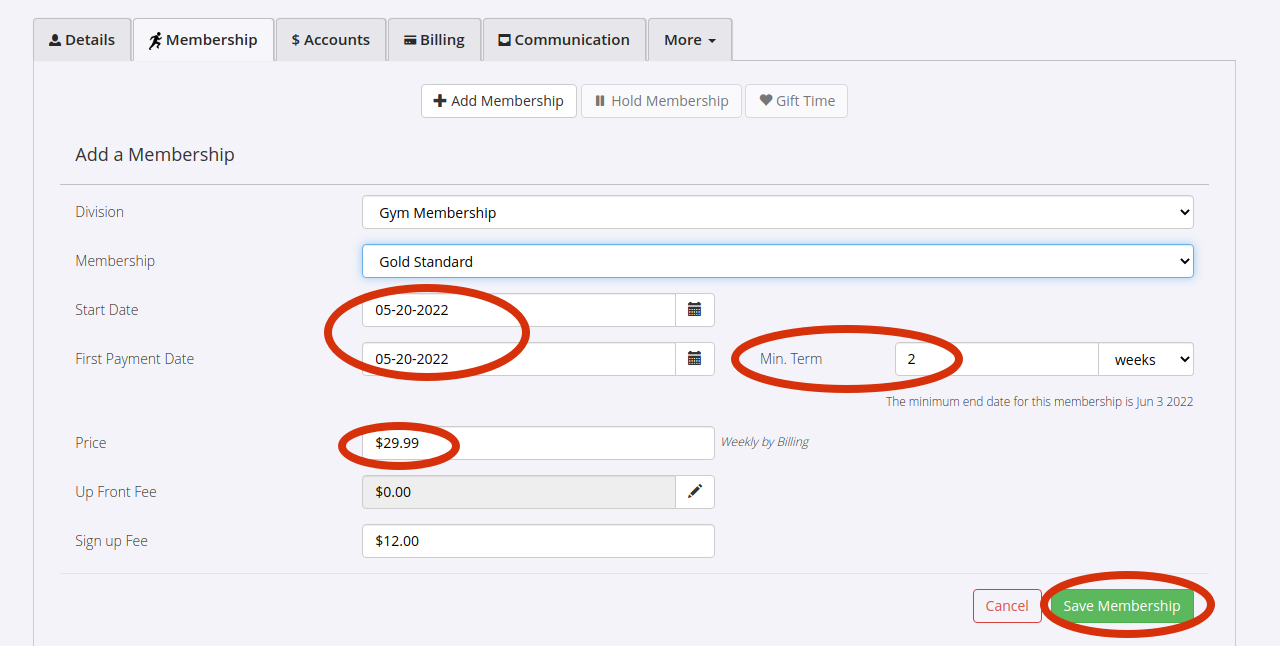 Once you are happy with the membership, save it. The membership will appear in the membership tab. Depending on your settings, the membership may still be incomplete. Make sure you complete the membership so the member can use it.
---
Need more help?
You can contact the GymMaster Support team if this article didn't answer your question, you had trouble following any of the instructions, or require further assistance.
Submit a Ticket
GymMaster Support