This article is for changing the day of the week, fortnight, or month that a member bills for their recurring membership. For changing the frequency of their payment cycle, see the article Changing a member's membership. If you want to change the Membership Type so that the change applies to more than one member see the article Changing a Membership Type for all Members with that Membership.

A common request from members is to change when in their cycle they are billed, so that their billing day lines up better with their payday. In GymMaster, payment cycles are attached to memberships, each membership has an independent payment cycle. To adjust this, identify the membership whose payment cycle needs to be adjusted under the member's Memberships tab. Click the [Edit] button for this membership, and the system will take you to a new page containing this membership's details.


On this page, the payment cycle is located under the Membership Fee section. Click [Edit] in this section, notice that the Next Payment Date field mentions the date that the system will currently be taking their next payment.

In this section we only need to worry about the highlighted area, containing the field Next Payment Date. Select a date for the next payment to occur, this will be the start of their payment cycle moving forward. So if you select a Tuesday, then Tuesday will be their billing day, or for monthly membership if you select the 1st, this will be their billing date each month.

After saving your changes, there will be a pop-up asking if you want to Prorate Next Payment Date Change. This will adjust their membership charge accordingly. If you don't wish for the member to pay any more, or any less, due to this change then you can select no in the dropdown menu. See the article Membership Prorata, for information on Prorata.

You can go to the member's profile > Accounts tab > [Preview Billing] to check that the member's future billing has been updated correctly.


You will be able to see the members' next billing date in the Preview Future Billing Modal: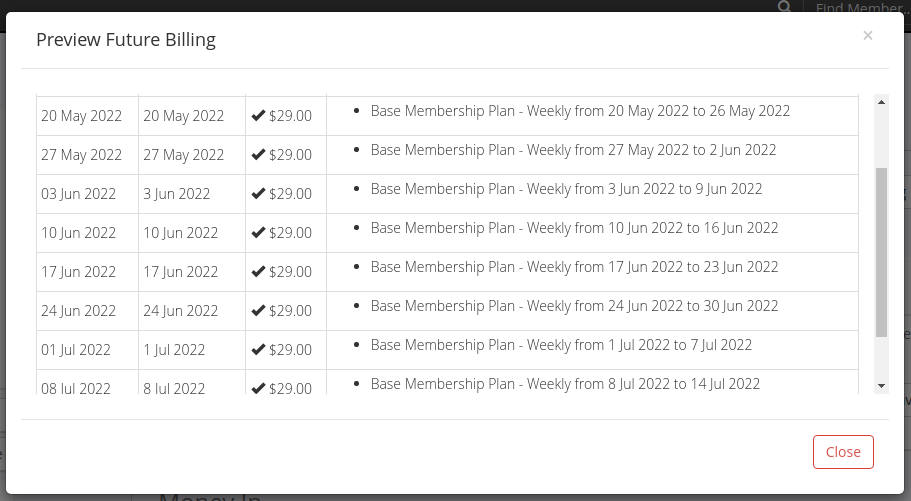 ---
Need more help?
You can contact the GymMaster Support team if this article didn't answer your question, you had trouble following any of the instructions, or require further assistance.
Submit a Ticket
GymMaster Support