Membership Types determine how much a membership costs, and what the member receives in return.
Membership Types are the templates from which individual memberships are created. A membership is connected to a specific member and includes details like the start date and the member's first payment date. Individual memberships can be edited to change prices and dates, but Membership Types will require developer assistance to change essential settings once members have memberships of that Membership Type.
Each Membership Type is set up with a group of Benefits, these are essentially the functionality of the membership type. This defines what a member with this membership type is allowed to do at your facility. For a member to be able to unlock one of your doors, they need to have a benefit that allows them access to that door. The default benefits are open hours access and free classes. To change this, edit the benefits on the Membership Type.

To set up a membership type, navigate to Settings > Membership Types > [Add Membership Type]


This article covers the essentials of Membership Type setup. More advanced Membership Type features like agreements, listing memberships for sale online, promotional periods, divisions, and discount codes are covered in other articles.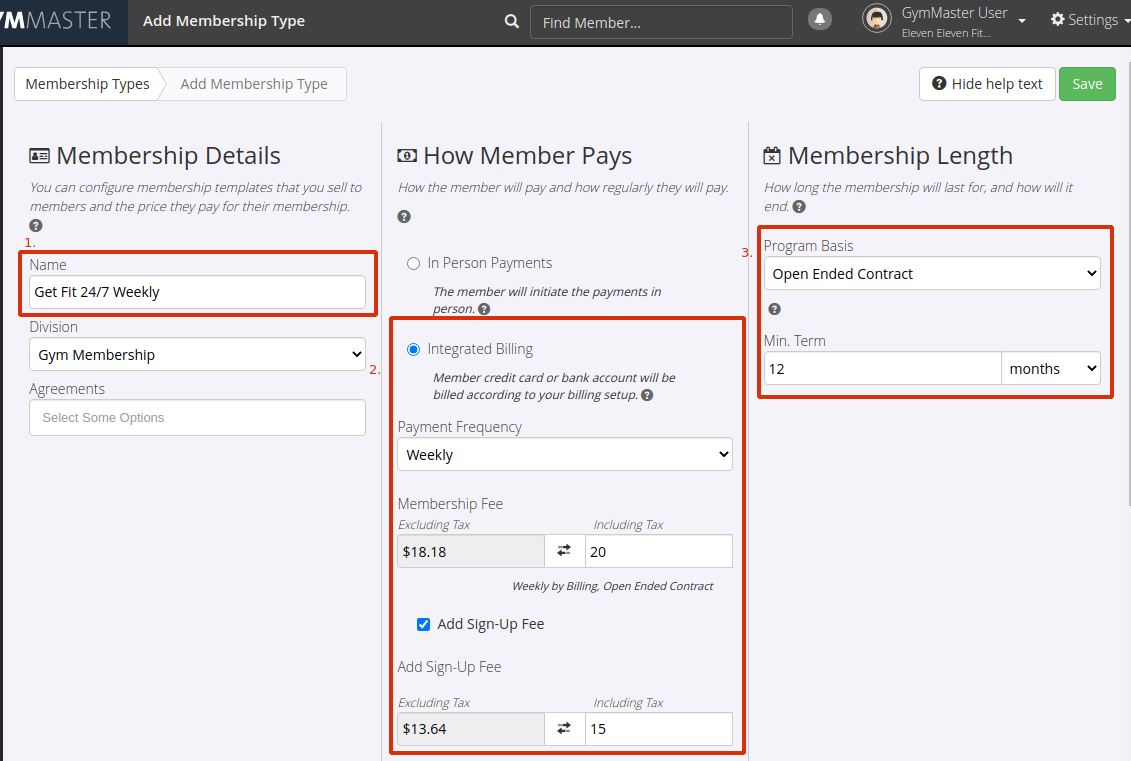 1. Membership Details
Name your membership. If you sell the membership online, this is what your members will see.
A division is a group of Membership Types. You can set some settings, and run reports at a division level. It's easy to change the division later, just edit the membership type and change the dropdown.
Agreements include Terms and Conditions, waivers, etc. You can set these at any time, but they will only be sent to new sign-ups.

2. How Member Pays
Integrated Billing is the most common payment method. If you do not choose integrated billing, automatic billing will not collect funds from the account. Integrated Billing will only allow the membership to begin once billing details have been collected. In-Person Payments is most commonly used by gyms that do not have a Billing Provider integrated with GymMaster, or for school sports teams.
Make sure your Payment Frequency is correct. This will require developer intervention if incorrect. It can be helpful to have the payment frequency included in the name of the membership type.
Set your Membership Fee. This will be charged every week, month, etc. depending on the Payment Frequency. You can change the price of the Membership Type at a later date, but the new price will only apply to new signups. To change the price for everyone, contact GymMaster support: https://www.gymmaster.com/contact-us/

3. Program Basis
The most common Program Basis is Open Ended. This membership never ends unless it is canceled. You can set a minimum term to prevent members from canceling within a given period.
Renewal Based memberships will end completely after the specified membership length. The member will need to contact the facility or renew their membership online to maintain access to the facility. Make sure you set the correct length. We recommend including the length of Renewal Based memberships in the name to make them easier for your staff to assign to members.
If you want a membership that lasts for a certain period, but cannot be renewed, choose a Renewal Based membership and check the Non Renewable checkbox. This is a good option for introductory offers and trial memberships.
Class and Booking packs and Club Visit packs are concession packs. A concession pack is a membership type with a fixed number of uses, the pack is used up each time the member attends the facility. There are two types of concession packs in GymMaster; Class & Booking, and Club Visit.
4. Benefits
Save your Membership Type, and scroll down. You will notice that a new section has appeared: Membership Benefits. By default, these include access to the club during open hours and free classes. You can change these to suit your needs. Edit a benefit by selecting the blue edit pencil icon. Uncheck 'No Limits' to set a limit, and uncheck 'free' to charge a price.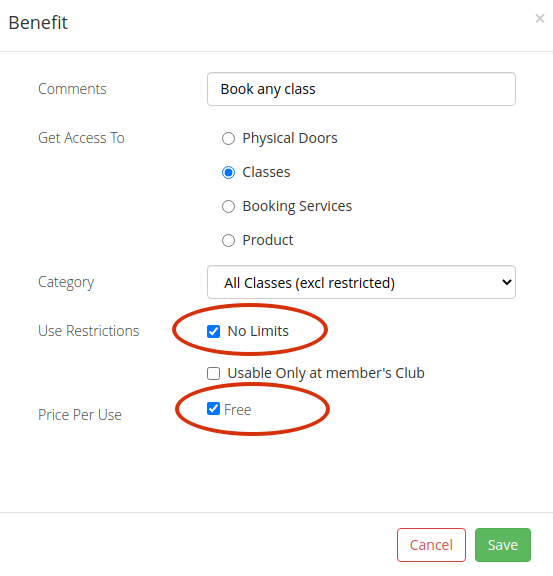 If you want to set weekly limits for your benefits (e.g 2 classes free per week), you may want to consider setting these benefits to reset every Monday. Reach out to our team so they can enable this for your facility.
If you have a GymMaster access control system, you can set very specific door access benefits (e.g. peak, off-peak, 24/7)
You can watch a video about Membership Benefits here.
---
Need more help?
You can contact the GymMaster Support team if this article didn't answer your question, you had trouble following any of the instructions, or require further assistance.
Submit a Ticket
GymMaster Support