Selling memberships online is not only good for publicity, it's a great way to save administration time and avoid errors. Many of our clients have members purchase their memberships online, even when they are in the facility.
To list memberships for sale online, navigate to Settings > Member Portal and check Signup enabled.
Each Membership Type can be included or excluded from listings online. To make a Membership Type available for purchase online, head to Settings > Membership Types > Edit the Membership type > Check 'This membership can be sold online.'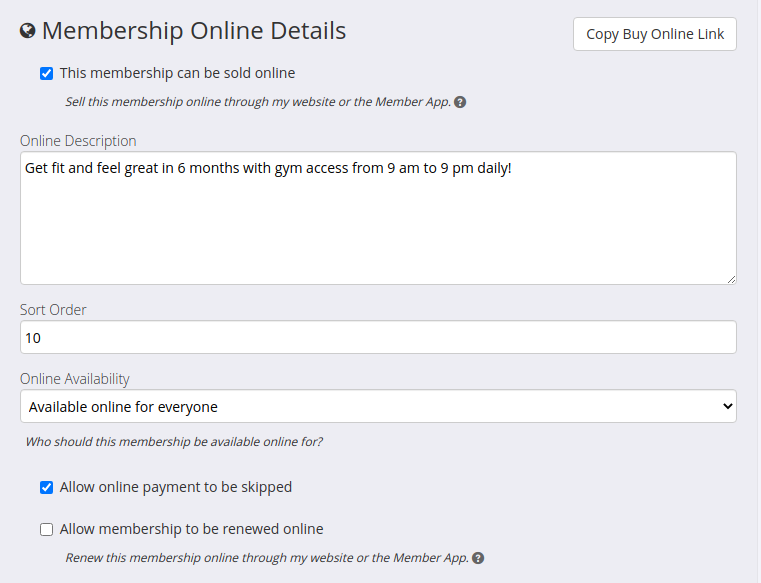 The online description is what prospects will see when they enter your member portal. Copy the Buy Online Link to spread the word about your new Membership Type on Facebook, by email, or on your favorite forum. The Buy Online Link will only appear once you have checked 'This membership can be sold online.' and saved the Membership Type.

To see what your prospects see, go and check out the member portal. There is a link on the right-hand menu.

Restrict new membership purchases to current members only by changing the Online Availablity dropdown. To see what your current members see from the portal, use the login as member feature.

If you have a large selection of memberships available online, you may wish to use some filtering options to customize the way your memberships are displayed in the Member Portal.
---
Need more help?
You can contact the GymMaster Support team if this article didn't answer your question, you had trouble following any of the instructions, or require further assistance.
Submit a Ticket
GymMaster Support