An invoice is a request for payment of outstanding charges. The date of an invoice is the date it is created and sent to the member. An invoice can be for any number of charges, meaning that the invoice date is not always the same as the charge dates, though the charges in the invoice will show with their respective due dates.
Invoices can only be created for charges that already exist, so to invoice for future charges use the [Prepay] function to generate the future charges.
To send an invoice to a member, first you need to generate one. Under a member's Accounts History section, edit one of the outstanding charges, then click the [Invoice] button. This will open a PDF invoice with all outstanding charges on it, for your review. If you are satisfied with the invoice, head back to the edit page and choose the [Email Invoice] option.
You can choose which charges are to appear on an invoice, so you don't have to include all outstanding charges. Under the member's Accounts History section, select the Charges view and you'll now see a field which shows the invoice number for each charge. Remove the Invoice Number from any charge you don't want in an invoice, and add it to any you do want to include. [Save] any changes, then use the [Email Invoice] option under the Charges Awaiting Payment section to select which invoice to email to your member.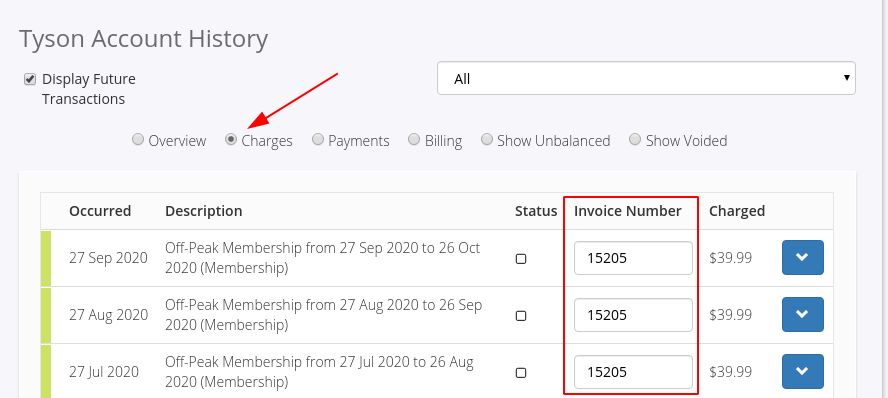 ---
Need more help?
You can contact the GymMaster Support team if this article didn't answer your question, you had trouble following any of the instructions, or require further assistance.
Submit a Ticket
GymMaster Support