To get started creating a new staff user, head to Settings > User Administration, and then click the [Invite New User] button. Enter some basic information, including their email address and then send the invitation. This will send a link to the new user to verify their email address and set up a password.

The next step is to set up their Access Rights. The access rights of a user define what they can and can't do within the GymMaster system. Consider what the role of the new staff member is, and which parts of GymMaster they will be required to use in order to perform their job at your facility. Edit the staff member you've just invited to GymMaster, and click the [Permissions] button.

By default, a new user will have minimal rights at your facility. For each of the Role Groups, use the drop down menu for choose their role in that group. As you change roles the Description column will update telling you which features and functions are not available at that role. We advise that at first you set up your staff's roles as low as possible, have them log in to GymMaster and ask them to perform one of their day to day activities. As you find that there is something that are not able to do due to their role, bump up the privilege level for that role group. Keep doing this until you are satisfied they can access every part of the system necessary, and none of the areas you don't want.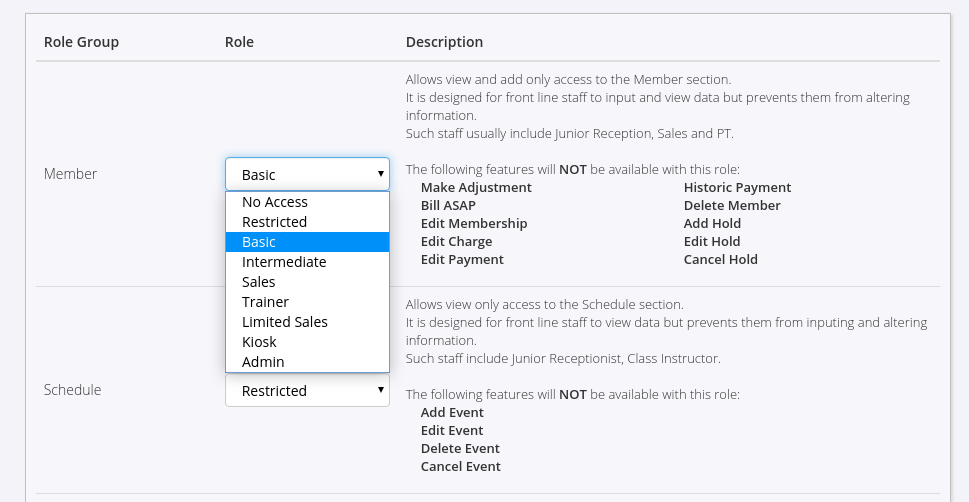 GymMaster is a large system with lots of functions and configuration options. Setting staff access rights can help keep staff focused as they use the system by hiding areas that are not relevant to their roles. We recommend that you do not set up all of your staff with Admin access to the system, with Admin level access users are able to change global configurations which may have unintended impacts on your facility. Admins can delete members, change your billing set up, see your financial information and cancel your account with GymMaster. If you leave your Admin account logged in for your other staff to use, please be aware that some Admin level changes, like deleting members, cannot be reversed.
Note: Any changes made to staff access rights will require the user to log out and then back in before changes will take effect.
GymMaster will not adjust any of your staff access rights for your facility.
---
Need more help?
You can contact the GymMaster Support team if this article didn't answer your question, you had trouble following any of the instructions, or require further assistance.
Submit a Ticket
GymMaster Support